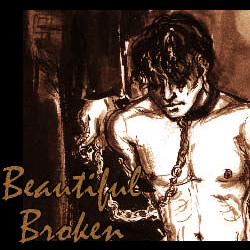 The Broken Universe: Beautiful Broken, Broken Revenge, Bonus Stories
Xander disappeared six months ago, and Spike finds the missing Sunnydale boy who has changed greatly in his time away from the gang. But then again, things have changed back home too. This is a story of Xander's attempts to find his way back from the darkness and pain of the torture. So really, this is a story of recovery! It's also all together 463 pages, so be prepared to be reading a while.
Rated ADULT!!!! Dark!fic: slavery, rape, Dom/sub, bondage, CBT, BDSM, memories of torture (and a bit of bad guy torture too).
Read the story Translated into Italian OR Translated into German